BlazerFAQ is a new way to find out answers to any questions you may have about Blair! If you have any questions you would like answered, submit them to bnc.mbhs@gmail.com.
Green = School Help
Red = Administrative
Pink = Student Life
Orange = Attendance
Blue = Counseling
---
Forms: Athletic Forms   Bullying and Harassment   Extracurricular Fee   Physician Contact   SSL Form   
             SSL Organization   Student Emergency Information
---
Where can I go to work on a computer?
You can work on a computer in the Media Center before school, during lunch, or after school as long as you have your student ID. There are also a number of other computer labs scattered across Blair that may or may not have available computers, including rooms 174 and 361.
Where can I go to get English help?
You can go to the writing lab, room 174, during lunch or after school, Monday through Thursday.
Where can I get Fine Arts help?
You can get one-on-one help with music, art projects, and re-teaching during lunches and after school by appointment.
Where can I get Math help?
You can get help in room 233 or 317 during lunch.
Where can I get Science help?
You can get help in room 341 during lunch.
Where can I get Social Studies help?
You can get help in room 147 during lunch, Tuesday through Thursday.
Where can I find teachers emails?
Teacher's emails can be found by clicking the top tab marked "Directory" on the MBHS website
How do I get excused to leave school for a doctor's appointment?
You need to submit a note to Ms. Fus in the attendance office on the day you are leaving early.
How can I find out about what courses are offered at Blair?
How does the new grading policy work?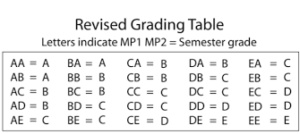 How do I turn in SSL forms?
Fill out the form on our website and then turn it into the box in the main office by the date written on the form
When is the media center open?
It is open from 7:15am to 3:30pm, Monday to Friday.
Can I go out to get food during lunch?
Blair has a closed campus, which means that you are not allowed to leave the campus during lunch or any other part of the school day.
When can I use my phone?
You can use your phone before and after school, during lunch, and in between classes. You are not permitted to use your phone in class or when you are in the halls during instructional time.
What is the dress code?
You are allowed to wear anything you want, provided it does not advocate use of drugs, alcohols, or violation of laws, and does not expose large amounts of skin. Underwear being worn as outerwear is prohibited. Hats are permitted.
Can I park my car at Blair?
Eligible students can apply each semester to park on campus for a fee of $37.50.
How can I keep up on Blair events?
Check the Blair Happenings Calendar on the BNC website.
How do I get a new ID?
Go to the security office, room 118, after school. The first replacement is free, and after that each costs $5.
Why do I need my ID?
IDs are important to use a computer, check out a book, get lunch, or go to a sporting event.
Where can I see my rights as a student?
In the Main Office you can find a Student Rights and Responsibilities.
What absences are excused?
Excused absences include illness, religious holidays, court summons, and death in the immediate family.
How do I get excused?
A note must be submitted to the attendance office after the absence, or beforehand if it is anticipated in order for it to get excused.
How do I see my counselor?
You can go to the Guidance Office to see your counselor. If your counselor is not there, you can fill out a form and leave it in their mailbox.
Where can I found out more about the counseling department?
Is there a pool on the fourth floor?
Where to go when you need information about:
| | |
| --- | --- |
| Absences | Attendance Office |
| Age of Majority | Attendance Office |
| Athletics | Athletic Director |
| Audio Visual Equipment & Library Materials | Media Center |
| Bus Problems | Main Office |
| Capstones | Academy Office |
| Change of Address | Counseling Office |
| College/Career Information | Career Center |
| Early Departure/Extended Absence | Attendance/Administrator |
| Eligibility Requirements | Athletic Director |
| Enrollment Verification | Registrar |
| Free and Reduced Lunch Requirements | Main Office |
| Grade Changes | Teacher/Counseling |
| Graduation Requirements | Counseling Office |
| Health Information | Health Room (Rm. 140) |
| Health Problems | Health Room (Rm. 140) |
| High School intervention | Counseling Office |
| Home Instruction | Counseling Office |
| Interims | Teacher/Counseling Office |
| Internships | Career Center/Work Program Teacher |
| | |
| --- | --- |
| Jobs | Career Center/Work Program Teacher |
| Locker Problems | Security |
| Lost Books | Department for that Subject |
| Lost Valuables and Clothing                                   | Security Office |
| Obligations | Financial Specialist |
| Personal Problems | Counselor/Administrator |
| Report Card Pickup | Counseling Office |
| Schedule Changed | Counselors |
| Scholarships | Career Center/Counselors |
| Selective Service Registration | U.S. Post Office |
| Senior Class Activities | Ms. Norris (Math Department) and Ms. Fus |
| Short Term Illness (Homework Collection) | Counseling Office |
| Standardized Testing (PSAT, SAT, ACT) | Career Center/Testing Coordinator |
| Student Service Learning Hours | Ms. Hiscock (Special Education Office) |
| Student Aide | Ms. Godwin (Counseling Office) |
| Student Parking | Ms. Fus (Attendance) |
| Student Records | Registrar |
| Study Problems | Academic Support/Counselor |
| Tardiness | Attendance Office |
| Transcripts | Registrar |
| Transfer/Withdrawal | Registrar |
| | |
| --- | --- |
| Tutoring | Counseling Office |
| Visitors to School      | Main Office |
| Work Permits | Counseling Office |